<![endif]>


<![if (gte IE 7) | !(IE)]>

<![endif]> <![if (gte IE 7) | !(IE)]> <![endif]>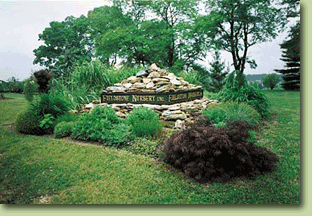 Fieldstone Nursery


Helping Create Nature's Art

By Dennis Hockman
Editor of Chesapeake Home Magazine
April 8, 2005

Amid the rolling hills of northern Baltimore County, Fieldstone Nursery boasts one of the Mid-Atlantic's best selection of rare and unusual plants including a wide variety of Japanese maples, dwarf conifers, and other unique propagated plants.
---
Listening to Mark and Mary Pat Sullivan, the owners of Fieldstone, talk about landscape design and plant cloning is interesting, especially when one considers that the two met studying sculpture at the Maryland Institute College of Art.
Mark and Mary Pat Sullivan may have never discovered their mutual interest in horticulture, had they not left Baltimore City for a farm in Parkton Maryland. They certainly never expected to launch one of the regions most unique specialty nurseries. But, now, after twelve years in business, it is difficult to imagine that Mark and Mary Pat Sullivan were ever interested in anything but horticulture.
Mary Pat explains, "I was always interested in plants, often incorporating growing things into my sculpture." For Mark the link is less apparent, but as he discusses the reasons he began to clone interesting cultivars (literally cultivated variety), there is clear connection between his background in the visual arts to his dedicated enthusiasm for propagating unusual plants. According to Mark, "When I moved to the country I became interested in going to nurseries and the whole idea of propagation. I became interested in the process of horticulture—became attracted to plants." While there is no direct link, Sullivan admits that he is often captivated by plants that display sculptural elements, vibrant color, or interesting textures. "I like weeping trees or those with intense colors, they are usually the ones I select for propagation."
Once Sullivan selects a certain cultivar for propagation, he experiments with different graft placements to create additional visual interest. "Just the process of grafting high can create a different look." A sculptural globe sitting atop a long narrow trunk is a favorite shape for Sullivan. Other high grafts cause the foliage to mimic water spilling from a fountain. One need only tour the display gardens at Fieldstone to witness the artist's eye at work.
While this artist's eye may guide selection, Mary Pat explains that Mark also forms a sort of paternal relationship with his propagated trees. "He creates them and raises them and nurtures them until they are ready to leave the nursery—then he wants his special children to go to a good home." This relationship is not unusual if you consider that propagated trees aren't mature enough to leave the nursery until they are five or more years old. I think of any artist—the expense of time and emotion often make it difficult to let go of a painting, a sculpture, or, in this case, a tree.
Fieldstone customers will also encounter a wealth of hands-on knowledge. "When people shop with us they get hands on knowledge," explains Mary Pat. "We grow the plants, so we know which do well and which don't perform well or which are more trouble than they are worth. We are much more sensitive to the plants for the sake of what they are."
At Fieldstone, landscape design also deviates from the standard. In relation to their artistic backgrounds, the Sullivans look at groups of plants as collections. Additionally, Mary Pat offered, "I don't do massive landscapes, I design for gardens more, to create more interest, more going on, more activity and variety. There are so many plants and so little space. It is tough to narrow down, I like them all for so many reasons." From lion's mane maple, Chinese dogwoods, cut leaf and variegated English oaks, and contorted read leaf beech to witch hazel, weeping blue atlas cedar, weeping red pine and hoopsi blue spruce, the Sullivans have certainly given themselves a broad palette. In addition to these species, though, it may be the abundance and variety of Japanese maples that make Fieldstone truly unique.
back to plants

Fieldstone Nursery, Inc.
19316 Middletown Rd.
Parkton, Maryland 21120
410-357-5114

Hours:
Wed.-Sat. ..... 9-6
Sun. ............ 11-2
See details on our contact page.